My Quilt top is done!
I am having a hard time writing about this quilt because my motivation for creating it was not the same as most of my projects.
I will start by saying that I have always wanted to make cathedral windows. I still do, since these are not traditional cathedral windows. Some of these blocks were really fun to put together, some I did not enjoy as much. There is one in the bottom left of the photograph that reminds me of something, which I will not say out loud. If you don't see it yourself think about Everybody Loves Raymond: Season 6, Episode 5 Marie's Sculpture. Oops.
This quilt will be perfect for Valentine's Day. My attraction towards Valentine's Day is growing. I have never 'celebrated' the day with my husband, I have always thought it was a highly commercialized day and that it is better to celebrate your love everyday of the year. However, I now have children in school and they celebrate Valentine's Day at school, so I have fun with them making Valentine's cards for their classmates. The quilt will be a fun addition to our home at that time.
The top picture is cropped to showcase the quilt top, but check out the snow in the picture below. We received all of the snow this past weekend. It was a nice steady snow, the kids are thrilled!
The instructions for it can be found
here
.
Lastly, my sewing machine is broken!! It happened yesterday while I was sewing. It quit picking up thread and I cannot use the left position of my needle. I tried a new needle (in case mine had bent) but no go. It looks like I will have to take her in for service and temporarily move on to non-sewing machine things:(
I am linking up with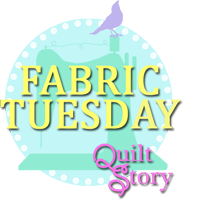 and